UK Delivery and Shipping
Delivery times update
Due to us using our own delivery trucks to guarantee safe delivery of your goods, unfortunately we are not able to operate all of our trucks as normal due to staffing restrictions brought on by the current Covid 19 pandemic. Therefore, we are currently only able to offer a reduced delivery service.
Once your order is placed with us our logistics team will be in touch with you to confirm a convenient delivery date and time. Current lead times are up to 5 working days, but these are unpredictable and unprecidented times, so please bare with us and rest assured that we are doing everything we can to give you the best and fastest service possible.
The Soundproofing Store endeavour to offer the best possible service to our customers with a variety of delivery options.Small parcels are sent by courier on a next day service.
Standard pallet delivery is 2-3 working days and are made by our dedicated delivery trucks direct from our wearhouse.
(For extremity postcodes we may use a pallet network)
At the time of order we will confirm a convenient delivery day which is convenient for you
Please use the list below to help you calculate the estimated delivery cost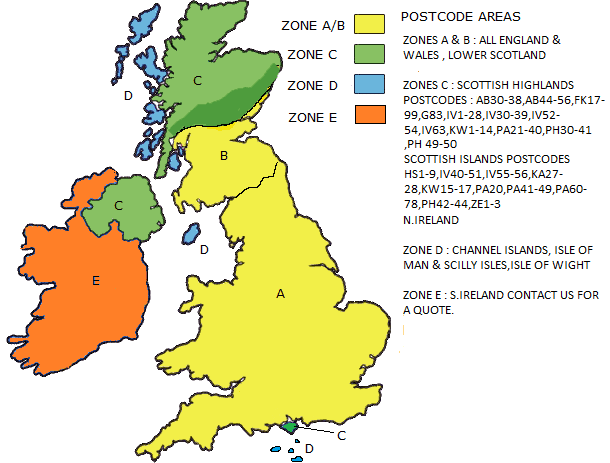 Please note: All deliveries must be signed for; therefore someone must be on site to receive the delivery. Delivery access – Orders may be delivered in trucks of up to 28 tons. Therefore, it is important that your property is accessible by such vehicles. Please inform us of any delivery restrictions. Our deliveries are made by driver only vehicles, as such the pallet will be delivered to curb side only, and they will not be able to carry the goods into your property. Any failed deliveries due to the customer not being able to take delivery may be charged to the customer at our standard rate.
Charges UK Mainland (excludes Northern Scotland)
Small items by courier on a next day service for £19.95+ VAT per parcel (Up to 30kg)
Standard pallets service (8.00am to 5pm) 2-3 Day £65 + VAT per pallet
Northern Scotland (north of Edinburgh or Glasgow)
Small items by courier on a 3 Day service for £27.95+ VAT per parcel (Up to 30kg)
Standard pallets service 2-3 Day £100 + VAT
Northern Ireland
Small items by courier on a 3/4 Day service for £25.00+ VAT per parcel (Up to 30kg)
Standard pallet delivery 4-5 Days £120 + VAT 
Sound Absorption panelling orders
Sound absorption products are custom made and as such are not delivered by pallet networks or couriers. They are delivered using a dedicated van straight from manufacturing to avoid any marks or damages and to ensure reliable delivery.
Delivery rates for these products also differs due to the dedicated van service we offer on them.
* Please Note -Sound absorption products must be ordered separately from all other products sold by the soundproofing store
European Shipping
Delivery outside the mainland UK may be arranged by prior agreement. You will be notified of the amount of the charge for this service and will at that point have to make a decision whether you wish to proceed with your order.
Please be aware that due to new Brexit legislation, if you buy a product from a non-EU country, you become liable to Customs and Excise Duty as well as the VAT applicable to that country.
International Shipping
Please contact us for a quote